Quality Assurance works to promote a culture of continuous improvement at San Francisco State University. We collaborate with business administrators and other central operations units to implement effective process improvement solutions. Quality Assurance is committed to using best practices to optimize various departments' operations and services to achieve organizational excellence.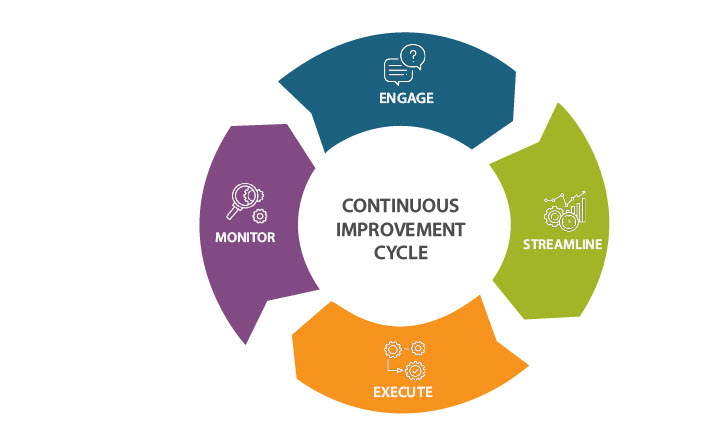 Process improvement is a continuous cycle that consists of four primary components:
Engage - Document the process "as is" and collect baseline metrics
Streamline - QA team leads the data analysis and revision and the improvement team provides feedback
Execute - Implement and test the new process while establishing communication and change management plans
Monitor - Measure and monitor the impact, and conduct revisions where necessary
Lean methodology focuses on the value to customer and business process flow by eliminating wastes in an end-to-end process, with waste being defined as transportation, waiting, overproduction, defects, inventory, movement, and extra processing. Lean can help organizations reduce costs and cycle time, increase service capacity and productivity, improve efficiency, and empower a culture of continuous improvement. Our goal is continuous incremental improvement and respect for stakeholders.
Methodology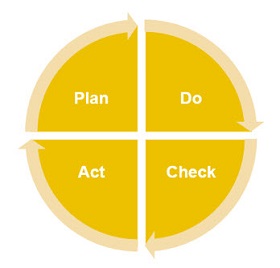 The Lean process improvement approach consists of: 
Document current process 
Design process improvement solutions 
Collect feedback from process improvement advisory committee 
Implement process improvement solutions 
Refine improvement solution based on process performance 
Monitor improvement for sustainability 
PROCESS IMPROVEMENT ADVISORY TEAM | PIAT
The Process Improvement Advisory Team (PIAT) is led and facilitated by the Quality Assurance department. The group has been meeting biweekly since July 2016. It focuses on improving and streamlining the existing campus processes, concentrating on creating incremental change and removing administrative barriers in order to support the campus community. It aims to improve University business processes by reducing costs, eliminating waste, enhancing service capacity and quality, and by creating a culture of continuous improvement. PIAT also often invites guest speakers to present on the process improvement work their department has done.
The Process Improvement Advisory Team is comprised of business managers and administrative professionals from:
Administration & Finance
Student Affairs & Enrollment Management
College of Business
Graduate College of Education
College of Ethnic Studies
College of Health & Social Science
College of Liberal & Creative Arts
College of Science & Engineering
Division of Graduate Studies
Library
University Corporation
Below are some of the continuous improvement projects that Quality Assurances has facilitated and completed:
Procurement Training Modules

Revise Honorarium Payment Request

Develop Direct Payment Request training materials

Streamline Direct Pay Request process

Streamline Employee Reimbursement Request process

Revise SFSU Campus Specific Travel policy