Quality Assurance is a part of the Office of the Vice President and CFO and is led by Jesus Garcia, the Executive Director of Administration. Click below to learn more about our team, our mission, and some of the projects we have worked on!
Quality Assurance Organization Chart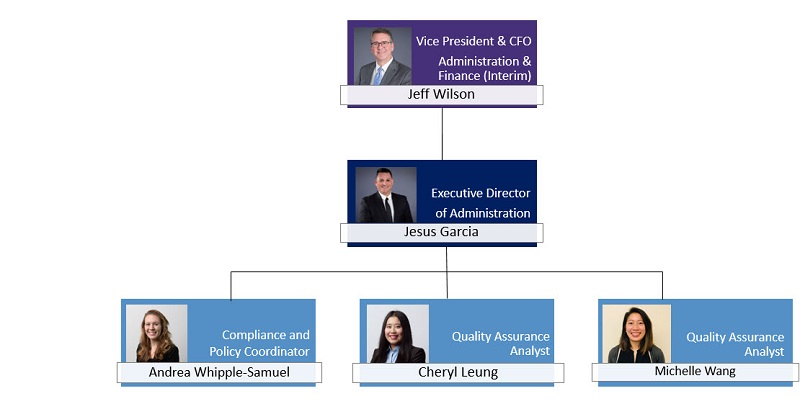 Text version of Quality Assurance organization structure:
Jeff Wilson, Interim Vice President & CFO, Administration & Finance
Jesus Garcia, Executive Director of Administration
Our mission is to
Analyze the needs of the University's most complex business functions

Provide review and recommendations on process and procedure improvements

Facilitate the design, development, and documentation of business solutions

Liaise between the Administration & Finance division and campus departments
I wanted to take a moment to thank you all for your efforts in our form on to DocuSign. I review scores of these form each week—and each requires about 5 signatures on average. Putting the form on Docusign will dramatically reduce the time it takes to move a new, updated, or renewed form through our system and to put it in place. It will also save a great deal of paper and do away with our search for form's signing status. This will make a significant difference for our team, and all of the teams we work with.
- Executive Director
DocuSign is a great tool for us to have, and I appreciate the work you and others did to bring this to fruition. We have several forms in our department that would benefit from using DocuSign to route, for sure.
- Administrator
Thank you, and happy to work with you on [DocuSign]. I appreciate your leadership on these issues. I appreciate your efforts and the simpler workflow processes.
- Dean
Electronic Signatures
Quality Assurance has facilitated campus adoption and implementation of DocuSign, an electronic signatures solution tool. More than 20 process on campus are available to be filled out and signed electronically from departments like Human Resources, Fiscal Affairs, Procurement and Support Services, and Faculty Affairs and Professional Development.
The use of electronic signatures has streamlined campus processes, enhanced security and compliance, and provided a sustainable way to conduct University business.
Policies
All Administration & Finance practice directives are maintained by Quality Assurance on the Policies and Practice Directives website. Quality Assurance also works collaboratively with departments to develop and update their practice directives and procedures by conducting research on best practices, creating draft documents, and providing an opportunity for customer feedback. As policy specialists, Quality Assurance provides guidance and solutions to inquiries regarding policy matters. 
Process Improvement
As the campus subject matter experts on continuous process improvement, Quality Assurance is committed to using best practices to optimize various departments' operations and services. Leveraging available technology, Quality Assurance works with departments to redesign and implement processes that are more customer-oriented and streamlined. Quality Assurance leads regular meetings of the Process Improvement Advisory Team (PIAT) to collect input on process improvement initiatives from stakeholders across campus.